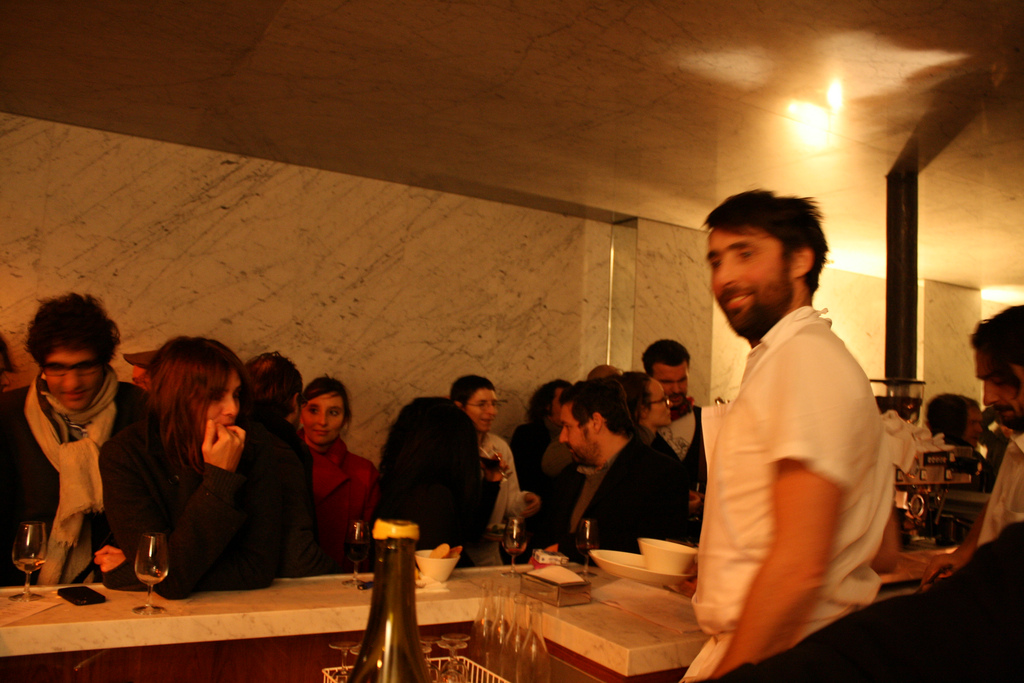 Last night, I took a peek at the new wine bar Le Dauphin. It was opening night and cheerfully mobbed, so we didn't stay to eat. I did, however, snap a few dishes and the tapas list so that I could share what's on the menu.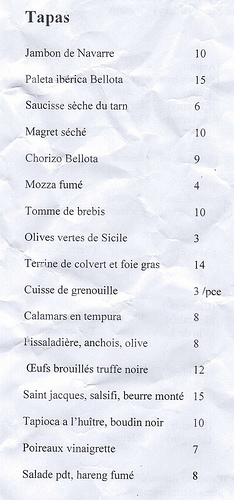 This list looks very promising. The cured meats are expected (spanish hams & chorizo, dried duck breast, sausage from the Tarn), but dishes like oeufs brouilles truffe noire (scrambled eggs with black truffle) and tapioca à l'huître, boudin noir (oyster tapioca with blood sausage) are much more elaborate than one usually encounters at a bar. I can't speak yet to how any of this tastes, but conceptually (petit luxe plates at affordable prices), I'm on board.
As for the wine list, it leans heavily toward the Loire and includes many of the same producers that I've enjoyed at Le Chateaubriand next door (and at Le Verre Volé, Le Café de la Nouvelle Marie, Aux Deux Amis, Le Vin au Vert…)
I was happy to see Lassaigne listed among the bubbles next to a Cerdon that is sure to bring a smile to the lips of my Bugey-bred boyfriend. Further down, the list reads like a "Greatest Hits" of the natural wine movement, with selections from Mosse, Villemade, Binner, Puzelat, and Foillard.
What makes me very happy about this list, besides the number of good Loire whites, is the clearly marked and affordable prices. There are three reds and three whites priced under 35€ by the bottle and 5€ by the glass. With the amount of publicity this place will generate and the presumed cost of bringing in all that marble, they could have elected to gouge a little more. The fact that they didn't is commendable.
And what about the design, this interior by one of the world's most famous architects? It's still unfinished, and thus difficult to judge. I can say this: there's a whole lotta marble. Slabs the size of which would have made Michaelangelo squeal. Marble on the bar, the floor, the wall, and even the ceiling. Mirrors, too, and some stunning wooden stools. The effect is very cold, and I mean that literally. My tongue, if I had placed it on the frozen marble wall, would have stuck.
I'm excited to go back and take a better look when it's finished, and to begin eating and drinking my way through these lists. Bruno tells me that Le Dauphin will remain in preview mode for at least the next few weeks, but will start turning out more elaborate food when the rest of their furniture arrives. Paris by Mouth will keep tabs on the young whale's development with practical details and the latest reviews (see the PbM page on Le Dauphin here). And if any of you go, I'm very curious to know what you think!